Are you on your journey to losing weight? 
Comfortable to wear and keep your body warm on a cold day. Quickly increase body temperature and make you sweat crazily. Great back support and correct your posture.  Relieve back pain and prevent injury. Instantly shapes for a toned silhouette, Compression support for active workouts & daily wear, Turns up the heat on every workout, Accelerates natural body heat to promote sweat & weight loss, Flexible and comfortable material.
Key Features:
Our zipper corset vest is equipped with zipper closure & front Hoo k& Loop & 2 wide shoulder straps, to ensure you could fit it to the most extent and give you a sexy natural curve.

Special front u-neck design which helps the breasts push up makes your chest more erect and attractive, effectively firm control armpit & back flabby fat to make your body no lumps or bumps or bulks. It can be worn with any regular or sports bra, giving you a beautiful hourglass figure.

Our body shaper helps postpartum recovery all processes, reduce swelling, tighten skin, control tummy & back, relieve postnatal pain, ease transition of uterus and shrink it down to normal size, make your maternity body get back to its original shape.

Made of two layers of neoprene composite fabric with the 2.0mm thickness, makes this weight loss cincher lighter and more comfortable than before, easier to hide under everyday clothes, but allow to move with your body while performing any gym activity, absorb sweat and let you always dry on the outside.

Our corset top with double layer high compression design, the chest part with a smooth zipper allows you to adjust the compression you need and work as a tuck belt to flatten your stomach instantly, and the abdominal part with wide Hook&Loop hides bulges on your abdomen to create a smooth belly, enhancing your workout and shape your waist to be slimmer.

A neoprene vest works like a sauna suit. Neoprene material helps raise our body temperature and keep the body warm, just like a sauna around your abdomen, making you sweat 3 times more than ever before and increasing calories burning for a more effective workout. It also helps burn fat in the belly, waist and back, helping you lose a few inches in a short period of time, easier and faster to achieve a slimming effect.

This body trainer also acts like a compression binder around the waist to offer abdominal compression and lumbar support to improve posture & relief waist pain & protect the spine.
Product Details: 
Brand Name: LILVIGOR
Item Type: Shapers
Material: Spandex
Material: Polyester 65%, Spandex 5%, Polyurethane 30%
Design: Sweat vest
Function: slimming, help to sweat
Special: Heat-trapping polyurethane fabric
Feature: Helps with detoxing and cleansing your pores
Effect: Boost your natural body heat and stimulate sweating
Slimming: Slim your tummy, shape your waist
Feeling: Incredibly light and comfortable to wear
Inner layer: Thermogenic polymer fabric increases your core temperature
Outer Layer: Compression fabric instantly slims and shapes your figure
Occasion: Everyday/Gym/Train/Sport/Yoga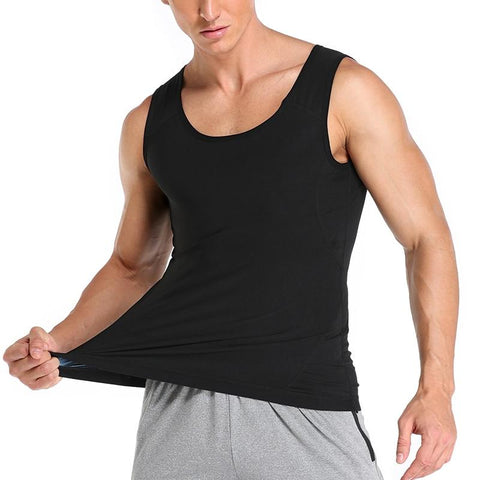 Package Includes:
1* Vest
Our Guarantee:
We offer a 100% return and money-back guarantee. Please let us know if there's anything we can do to help, as we are passionate about making sure you are completely satisfied with your Lovin' Fitness experience ♡